Before Using
Handling Instruction
DO NOT let motor locked, because it might break the gear box and deteriorate
motor in performance.
DO NOT use motor under 0 deg/c or over 50deg/c. Our motor operation range
is from 0 deg/c to 50deg/c.
For humidity we recommend from 5~85RH (at 40deg/c)
Please note that starting performance may be worse at cold temperature.

Top
Selection of Motor
Characteristics of DC Motor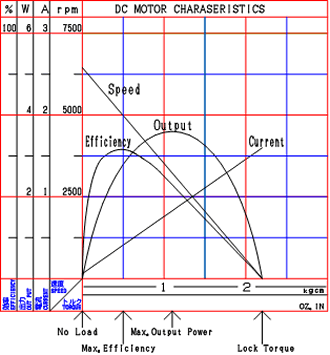 DC motor performance changes its speed and current along with its load status. If load is larger, speed will be slower and current will be larger. Speed and current of the motor under no load are called No Load Speed and No Load Current respectively. The most efficient output point against electric power consumption is called "Max Efficiency" and we usually we call max efficient torque or speed as "Rated Torque" or "Rated Speed".
Motor Output is at almost medium point between at No Load and Lock torque points. This catalog indicates the torque and speed at Max efficiency of each motor model. We recommend the value in catalog should be used. We call "Lock" when motor is unable to move with over load, and we call "Lock Current" "Lock Torque" in such a motor status.
If there is motor lock, the motor quality maybe deteriorated and life maybe shorter. So it is better to take a protection solution. When motor starts to move, the starting current equivalent to lock current happens. Please select sufficient electric power considering starting current, when electric power capacity should be calculated. If there is electric power shortage, motor may not be able to start to move or need extra time to start. As such uses as follows will affect motor life, please note:
Use beyond rated voltage and/or rated torque.
Repeated use with start up/ stop/CW/CCW operation and/or operation in a very short time.
Output Power of DC Motor

Motor Output can be presented with the following formula In the above chart, the point of max output is located in middle of No Load and Lock Torque. DC motor's characteristics is as above in general.
Solution for Noise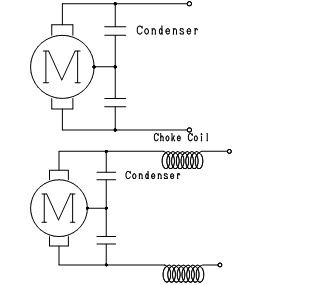 DC motor generates sparks between commutator and brush when rotating, and this could be a cause of Noise. There are 2 kinds of noise, the one is on the electric power line and the other, outside motor. Our DC motor is equipped with Ring Varistor which can absorb noise. Further solution such as the one described in the left chart might bring a better result. Some of our motors have C.R. combination Assy circuit built-in motor inside.
Life
In general, a designation of 200,000 cycles of pattern 5sec ON, 10sec OFF, 1sec ON, 20sec OFF (as 1 cycle) is a matter of common knowledge. (Of course this is one example.) Life varies depending on operation period and operation pattern. When we designate the life, the motor performance might become +/-20% of original current and original speed. But this value is changeable according to each situation.


Top
---